From the end of 2012, more than 5 billion in revenue, more than 50 million net profit, to achieve 2 billion revenues in 2015, 330 million net profit, three consecutive years of rapid growth in revenue and net profit, Liard has It has become one of the rare high-speed growth models of Chinese LED listed companies.
On the evening of March 17, Liard (300296.SZ) disclosed the 2015 annual report. The report shows that in 2015, Liard achieved operating income of 2.023 billion yuan, a year-on-year increase of 71.42%; net profit attributable to shareholders of listed companies was 331 million yuan, an increase of 105.05% over the same period last year.
Among them, only in the fourth quarter of 2015, the operating income was 899 million yuan, a rapid growth.
Liad 2012-2015 revenue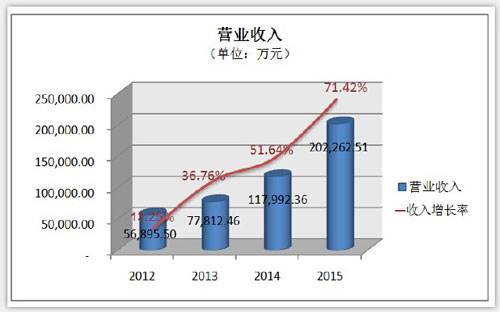 Source: Liard Financial
Liard said that at present, more than 90% of the company's business is operated in direct sales mode and 10% is operated in channel sales mode. During the reporting period, overseas business accounted for 24.53%, but since 2016, overseas business accounted for about 50% of the total, and the company will be in a state of balanced development of domestic and overseas revenue.
"With the expansion of the performance of Lifeng Culture and Jin Lixiang, the performance of the LED cultural and educational media sector has surged. With the rapid development of the LED intelligent lighting sector driven by the high performance of Jinda Lighting, the four-wheeled sector has entered the stage of development." De Nan Secretary Li Nannan said.
According to the annual report, Liard's small-pitch business achieved rapid growth (compared to 70% in three years), and the global market share of LED small-pitch was over 50%.
After Jinda Lighting joined, Liard's LED lighting segment has emerged as a leader in the LED lighting engineering industry. In particular, Jinda has won the bid and is implementing the 277 million Wuhan Liangjiang four-strait urban lighting show, which has opened the urban landscape lighting. Great market.
In the field of cultural and educational media, the joining of Lifeng Culture has enabled Liard Group to embark on the high-tech products of Kangzhuang Avenue, which is a combination of science and technology and culture (that is, supporting high-tech, vigorously entering cultural tourism, entertainment and other cultural industries). , engineering integration into the coordinated development of cultural project operations.
At the end of 2015, Liard acquired the American company Pingda System and increased its efforts to enter the overseas market. The Liard side expects to achieve international and domestic revenues in 2016.
Liard's main business segmentation in 2015


"What is gratifying is that the company's financial report for the first quarter can see that the company's net profit can more than double its year-on-year, and the company's revenue in the first quarter can reach 900 million (three times more than the same period last year). We are delighted to see As the company's new three-year development strategy plan, starting three years - 2016, the company's revenue is expected to reach more than 4 billion (more than 1 time growth), net profit of 500-700 million (also will increase 60% -110%), This will be an exciting start," said Li Jun, chairman of Liard.

Imagine walking into your home after a tiring day at work, school or out doing errands, hoping to feel relaxed and rejuvenated, but your place feels dry and unpleasant!
If the lack of humidity is making your skin, throat or nasal passage dry, the Dituo could be a perfect addition for your home!
Its cool mist adds moisture, purifiers the air you breathe and instantly cleanse and refresh the atmosphere while giving off a delicate, sweet scent.
The ultrasonic technology ensures it is quiet while running which makes Dituo perfect for home, office, hotels and more. It also comes loaded with features like auto safety shut off, remote control, color changing led lights, timer setting and more for your ultimate comfort.
DITUO can also be used as an Aromatherapy Essential Oil Diffuser, which improves your health, elevates your energy levels, and even promotes a good night's sleep. Simply fill it in with water, add a few drops of your favorite Essential Oil and relax in a calm and tranquil environment.
FEATURES
Unique Design: With exquisite design and wood grain finish DITUO effortlessly complements any decor with its elegance and simplicity, and makes a perfect decoration piece for your space.
Ultrasonic Technology; Clean and Fresh Air: Now you can work or sleep without any disturbance. With advanced ultrasonic technology, Remote Control Diffuser works its magic silently. It adds ultra fine and smooth mist to moisten your skin and helps you breathe better while removing toxins and foul smells from air.
Micro-Cool Mist: With DITUO you can benefit from essential oils at the comfort of your home! Oil Diffuser is equipped with atomization technology, that converts water and essential oils into extremely fine micro-particles and disperse the mist without ruining the benefits of oils.
Stay healthy: Room Diffuser not only moisturizes the dry skin but also effectively eliminates bacteria in the air, helping relieve congestion due to colds & allergies, soothes sinus and improves your overall health.
Multipurpose: Dituo is easy to use and can be used as a Aroma Diffuser, air purifier, and night lamp. You no longer need to spend hundreds of dollars on different devices or aroma-therapies.
Remote Controllable with LED lights and Timer Settings: Remote Control Aroma Diffuser comes with remote control and is equipped with color changing LED lights that can be used as a cute night light. Set it to a specific color or simply turn it off, if you don't wish to have any light. You can also adjust the spray intensity, change the light mode or set the mist time from 1 hour, 3 hours, 6 hours or ON as per your convenience.
Remote Control Diffuser
Room Diffuser,Remote Control Diffuser,Oil Diffuser,Remote Control Aroma Diffuser
Shenzhen Dituo Electronic Co.,Ltd. , https://www.sz-dituo.com