The 107th Canton Fair was officially opened on April 15. On the morning of the same day, LumaVue, a US multinational procurement giant, and Guangdong Sunshine Fuyuan Co., Ltd. and Guangzhou Zhengben Lighting Co., Ltd. signed a large purchase order of 80 million US dollars in Guangdong Building. It is reported that this is the first order of the transaction after the opening of the 107th Canton Fair.
LumaVue is a professional multinational buyer of LED lighting products based in the United States, focusing on supplying the most advanced green lighting products to North America and other developed countries. John J. Ryan (Gary Dunn), a former Wal-Mart executive and executive vice president of global procurement, became the president of LumaVue three years ago.
Gary Dunn said that the $80 million purchase order was just a "small dish" trial. The strategic cooperation of the three companies in the future will change the previous model of procurement through intermediaries trading companies. Lumawei can directly issue production orders or transform production processes to the two companies in cooperation. Market planning goals are aligned with Wal-Mart sales.
It is understood that the company's heads of experience in global procurement, plans to focus on the procurement of LED lighting products, to create the world's largest LED supplier.
Shenzhen Sunshine Fuyuan Technology Co., Ltd. is a manufacturer of high-power LED lighting products in China. It has nearly 20 invention patents and utility model patents. Its products and technologies have been exported to developed countries such as Canada and Europe. Guangzhou Zhengben Lighting has been working in the LED industry for nearly 10 years. It is the first domestic high-tech enterprise in Guangdong to develop LED field.
Tan Xiao, general manager of Lumawei Asia, said that after more than a year of searching, the company chose these two companies to become strategic partners. The strategic cooperation agreement signed by the three parties today integrates the advantages of the three companies in order to enter the international market. (Editor: maysoong)

XLPE insulated electrical Power Cable consists of below major components: one or more high quality stranded copper or aluminum conducts, XLPE insulation, fixed tape and filler, optional protective armour, overall PVC sheath.
These cables are with simple structure, light weight and high heat resistance. With the development of our technology, our factory is able to manufacturing our products more lighter, durable and flexible for international requirements.
It could be classified into 3 type as below:
Non-armoured XLPE Power Cable(Cu or Al /XLPE/PVC)
Steel Tape Armoured Power Cable(Cu or Al/XLPE/STA/PVC)
Steel Wire Armoured Power Cable(Cu or Al/XLPE/STA/PVC)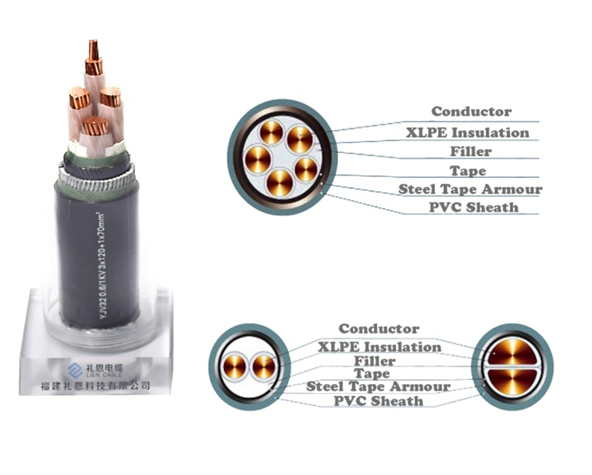 Manufacture Standard
This cable is manufactured according to the standard of GB12706-2008(The Same as IEC60502).It can also be manufactured according to IEC,BS,UL as request.
Using features
l Max. permissible continuous operating temperature of conductor is 90℃.
l Max. temperature of conductor during short circuit (5s maximum duration ) shall not exceed 250℃.
l The ambient temperature under installation should not below 0℃.
l The bending radius of a single-core cable: not less than 20 times of cable`s OD
The bending radius of a three-core cable: not less than 15 times of cable`s OD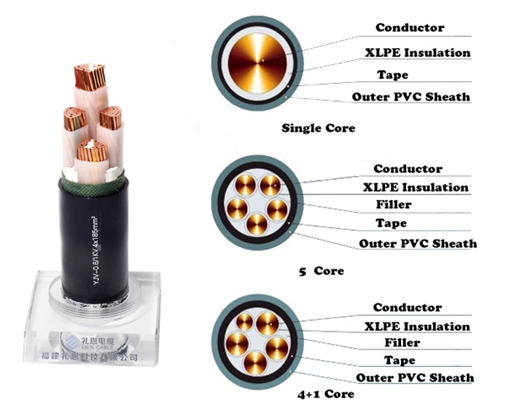 Why choose XLPE Insulated Power Cable?
l Heat resistant performance-With XLPE special structure, it will not be decomposed and carbonized up to 300℃ with at most 40 years life time.
l Insulating Performance-Same insulation characteristic as PE, higher electrical resistance and less impact by temperature.
l Mechanical Performance-Higher hardness, stiffness, abrasion resistance and shock resistance.
l Chemical performance-XLPE has higher resistance to acid and alkaline. It only produce water and carbon dioxide, it shows more environmental friendly which could satisfy modern requirements of fire safety.
Application:
This product is suitable for transmission and distribution of electrical power with AC rated voltage 0.6/1Kv,1.8/3 kV,3.6/6 kV,6/10 kV,8.7/10 kV,8.7/15 kV,12/20 kV,26/35kV kV. Such as power distributing systems, industrial plant and others.
You are always welcome to contact us if you have any questions about XLPE electrical power cables. We will offer you professional solutions as you required with attractive price.
XLPE Insulated PVC Sheathed Power Cable
XLPE Insulated PVC Sheathed Power Cable,Power Cable With XLPE Insulator,XLPE Insulation Power Cable,XLPE Insulated Power Cable
Fujian Lien Technology Co.,Ltd , http://www.liencable.com