Electronic materials and components are an important part of the electronic information industry. They are at the front end of the electronic information industry chain. They are the basis for the development of systems and end products for communications, computers and networks, digital audio and video, and technological innovations in electronic information industry. Bigger and stronger has an important supporting role.

In order to comprehensively and scientifically summarize the development experience of the "11th Five-Year Plan", we will clarify the development direction of China's electronic basic materials and key component industries during the "12th Five-Year Plan" period, and ensure the healthy development of the industry, according to the "12th Five-Year Plan" for industrial transformation and upgrading. "The "12th Five-Year Development Plan" of the "Information Industry" and "Twelfth Five-Year Plan" of the "Electronic Information Manufacturing Industry" have formulated this plan.

This plan covers the basic materials and key components in the three major industries of electronic materials, electronic components and electronic devices. It is the guiding document for the development of China's electronic basic materials and key components industries during the "12th Five-Year Plan" period, as well as the strengthening of industry management. The important basis for organizing the implementation of major projects.

I. Review of the "Eleventh Five-Year" Industrial Development (I) The steady growth of industrial scale China's electronic materials and components industries have significantly increased their output, sales, and import and export volume during the "11th Five-Year Plan" period, which has enhanced China's The status of basic electronics producing countries. Although it was affected by the international financial crisis and the industry experienced slight adjustments, the overall development was stable. In 2010, under the overall growth of the domestic industry, especially the rapid development of emerging industries, the industry resumed its development to the highest level in history.

During the "Eleventh Five-Year Plan" period, China's electronic materials industry sales revenue increased from 54 billion yuan in 2005 to 173 billion yuan, an average annual growth rate of 26%; annual growth rate of electronic components sales revenue 16%, from 6100 in 2005 Billion yuan has grown to more than 1.3 trillion yuan, of which printed circuit sales revenue is 123 billion yuan, chemical and physical power sales revenue is 297.8 billion yuan, display device sales revenue is 38 billion yuan.

(II) Further Strengthen of Enterprise Strength With the deepening of the "big company" strategy, China has initially established a large group of electronic materials and components companies with independent innovation capabilities and international competitiveness. In some professional fields, it has already had a very strong strength. No matter whether it is product output or quality, it ranks among the top in the world.

In the past 10 years, the total sales revenue of China's top 100 electronic components companies has increased by 2.84 times, with an average annual growth rate of 12.32%. In 2010, China's top 100 electronic components companies achieved a total sales revenue of 154.49 billion yuan, a total profit of 13.958 billion yuan, and an export value of 5.583 billion US dollars. Of the top 100 component companies in 2010, 39 had sales revenue of more than 1 billion yuan, and 7 companies had sales revenue of more than 5 billion yuan. During the "Eleventh Five-Year Plan" period, China's printed circuit industry exceeded Japan and the United States as the world's largest producer. In 2010, the average sales of China's top 100 printed circuit companies exceeded 826 million yuan, and the total size accounts for 60% of the national total. , an average annual growth of more than 15%.

The production scale and product quality of private electronic materials and components companies developed rapidly during the "Eleventh Five-Year Plan" period. At the end of the "Eleventh Five-Year Plan", the number of private enterprises accounted for 48% of the entire industry, and sales revenue accounted for 30% of the entire industry. Taxes accounted for 47% of the industry, and listed companies increased year by year. (III) Continuous improvement in production technology level During the "Eleventh Five-Year Plan" period, the capacity of domestically-made electronic materials was significantly improved, and the technological level of silicon materials, semiconductor lighting materials, and electronic ceramic materials made significant progress. In terms of silicon materials that can best represent the industry's development level, the domestic product level has greatly improved, and a 12-inch silicon wafer pilot line with an annual output of 120,000 wafers has been built, and a 12-inch nitrogen-doped Czochralski silicon single crystal polishing wafer has also been built. Can be produced in small batches, indicating that China's electronic materials technology is gradually entering the ranks of the international advanced level.

During the "11th Five-Year Plan" period, China's electronic material and component production technology levels have continued to increase, and the localization rate of key products has increased substantially. At the beginning of the "Eleventh Five-Year Plan" period, China's optical fiber preforms were completely dependent on imports; at the end of the "Eleventh Five-Year Plan" period, China's total output of optical fiber preforms reached 700 tons, which accounted for 30% of the total domestic use. The domestic printed circuit technology is progressing from traditional single- and double-sided production technologies to high-multi-layer, high-density interconnected panels (HDI). Domestic companies have mastered advanced HDI production technologies, and the absolute amount of production and sales of major products has been traditionally Multilayer boards are raised to high levels and more than 20 layers.

The 6th generation and above high-generation LCD panel production line was completed and mass-produced, which reversed the passive situation in which China's large-size TV LCD panels were completely dependent on imports, indicating that China's flat panel display industry has begun to enter large-scale product areas. In the Plasma Display (PDP) field, China has already had the capability to mass-produce 50-inch PDP modules, and its technical level has been further improved, and the industry chain localization support has achieved initial results. In order to win the initiative in the display competition in the future, domestic enterprises have already carried out organic light-emitting display (OLED) technology research and development and industrialization layout, there has been a passive organic light-emitting display (PM-OLED) production line put into operation, a number of active organic The AM-OLED production line is under intense construction.

(IV) Steady progress in clean production and initial development of circular economy During the "Eleventh Five-Year Plan" period, the electronic materials and components industry focused on the printed circuit, polysilicon, and battery industries, steadily advancing energy-saving emission reduction and recycling economy development. A group of advanced technologies and equipment in the printed circuit industry such as "physical recycling technology and equipment for waste printed circuit boards", "etched waste recycling technology and equipment", "low-copper waste liquid treatment technology and equipment" in the industry Promotion and application, many companies voluntarily launched a clean production audit.

During the "11th Five-Year Plan" period, hydrogen batteries such as nickel-metal hydride batteries and lithium-ion batteries have entered the stage of industrialization, rapid development of renewable energy such as solar cells, and energy-saving, emission reduction, emission reduction, and pollution control for battery manufacturers. With certain achievements, the company's production environment and conditions have greatly improved.

(V) Conspicuous problems still exist in the development of industries. Local companies are small in size and scattered, lacking leading enterprises with international competitiveness; R&D capabilities are weak, and there is a lack of coordination and interaction between upstream and downstream industries; the external dependence of the industry is too high. Many key raw materials and spare parts need to be imported from abroad; the development of industry standards lags behind; the quality and reliability of key electronic components and electronic materials need to be further improved; and the promotion of energy-saving and emission reduction, clean production, and development of circular economy are still facing greater pressure. .

2. The situation facing the "Twelfth Five-Year Plan" (I) Industry faces good opportunities for development Under the guidance of the country's principle of transforming the mode of economic development, China's electronic materials and components industry will usher in a crucial period for promoting industrial upgrading and historic development opportunities. . The cultivation and development of strategic emerging industries and the scale of investment of trillions of yuan have provided the electronic materials and components industry with unprecedented opportunities for innovation and development. Emerging industries bring huge supporting needs to the industry to present a broader market prospects.

(II) Technological Innovation Breeding New Breakthroughs Smart, green, low-carbon, and fusion trends urge technology innovation in the production industry. Breakthrough technologies such as embedded component technology, printed electronics, and multi-function electronic module technologies are rapidly developing. New products that adopt new technologies, new technologies, and new materials for emerging industries, as well as ever-shortening product replacement times will be more powerful in promoting the development and upgrading of technologies. In order to achieve smaller size, lower cost, higher precision and higher integration, the development prospects of new electronic materials and components using new processes and new technologies are bright.

(III) The challenge to the industry due to changes in the external environment is becoming more and more severe. During the "12th Five-Year Plan" period, the pressure on human resources costs will be even greater. Enterprises that rely solely on low-cost labor for production and operation will be struggling, reducing manpower costs through industrial transfer and increasing the added value of products. , will become the only way for the development of production enterprises.

With the development of global economic globalization, international competition will become more intense, and the resulting trade friction will also increase. Countries and regions such as Southeast Asia, India, Brazil, and Russia will gradually become major new production areas for electronic materials and components, threatening China's status as a "world factory" in the industry.

Uncertainties in the international economic situation have been increasing, especially as competition for global resources and fluctuations in international bulk commodity prices have become increasingly important for domestic industries. International exchange rate fluctuations, especially the appreciation of the renminbi, have a major impact on the competitiveness of exporters of electronic materials and components.

(IV) The urgent need for transformation and upgrading of the industry With the further adjustment of the global economic structure and industrial transfer, the structure of electronic materials and components in China has gradually advanced toward the mid-to-high end. During the "Twelfth Five-Year Plan" period, we must seize the opportunity of a new round of economic development, and actively guide the industry to eliminate backward production capacity, optimize the allocation of industrial resources, enhance industrial supporting capabilities, and increase automation production efficiency, so as to provide strong support for the development of electronic information industry.

III. Guiding Ideology and Objectives of Industrial Development (I) Guiding Ideology In accordance with the overall plan of the State Council to speed up the cultivation and development of strategic emerging industries, it closely focuses on the development needs of electronic information products and strategic emerging industries, and promotes the upgrading of industrial structures as the main line. , With innovation as the leading value enhancement, to optimize product performance, reduce costs as the driving force, improve the competitiveness of electronic materials and components industries; take a large amount of products as a breakthrough, and vigorously promote the broad market prospects, strong driving role, and good development foundation The development of industrialization of electronic materials and components with independent intellectual property rights.

(b) Development goal 1. During the "12th Five-Year Plan" period, China's electronic materials will grow at an average annual rate of 8%. By 2015, sales revenue will reach 250 billion yuan. The average annual growth rate of electronic components will be 10%. By 2015, sales revenue will exceed 1800 billion yuan, including chemical and The sales revenue of the physical power industry reaches 400 billion yuan, and the printed circuit industry realizes a sales income of 170 billion yuan; the average annual growth rate of electronic devices is 25%, reaching 180 billion yuan, of which the average annual growth of the flat panel display device industry exceeds 30%, and the sales revenue reaches 1500 Billion, the proportion of the global share of the scale has increased from the current 5% to more than 20%.

2. Structural Indicators High-end electronic materials account for more than 40% of the entire industry's products, and the domestic matching capabilities of materials have been significantly improved. We will continue to promote the strategy of large companies and cultivate more than 10 large electronic component companies with annual sales revenue of more than 10 billion yuan. Enterprises that strive for electronic component sales revenue of more than 100 million yuan account for 75% of the total sales revenue of the industry. The domestic flat panel display production technology has reached the international advanced level, forming 2 to 3 years of leading enterprises with sales revenue of over 30 billion yuan, and fully supporting China's color TV industry transformation and upgrading.

3. Innovation Indicators We will vigorously strengthen the construction of independent innovation and national brands, and form a group of enterprises with independent intellectual property rights, domestic and international brands and influences, and initially form a group of innovative SMEs driven by research and development. Promote the construction of intellectual property rights, and strive to increase the number of core patents and important standards for new applications in the whole industry during the "12th Five-Year Plan" period, of which invention patents will increase by more than 10%.

4. During the planning of energy saving and environmental protection indicators, through energy conservation and emission reduction, comprehensive utilization of resources, and promotion of cleaner production, the recovery and utilization of useful substances in the three wastes will be improved, and the impact on the environment will be reduced. The printed circuit industry will achieve copper recycling and reuse rate from the current 45%. Increased to more than 80%, the water recycling rate increased from 20% to more than 30%.

Fourth, the main tasks and development priorities (a) the main tasks 1. Promoting industrial upgrading China is already a major producer of electronic components, but most of the products are low-end products with low added value, low prices, and low profits. During the "Twelfth Five-Year Plan" period, it is necessary to take advantage of the rapid development of strategic emerging industries to accelerate the pace of R&D and industrialization of high-end products for strategic emerging industries, improve the quality and grade of key components and materials, and strive for key areas. Achieve partial or even comprehensive localization alternatives. In combination with the implementation of major projects, promote structural adjustment and industrial upgrading, continue to implement the strategy of large enterprises, guide large-scale backbone enterprises to strengthen the application of local materials and equipment, and form a basic industrial system with optimized structure and supporting integrity.

2. Strengthen technological innovation Bringing government guidance and promotion into play, innovating industry management methods, guiding innovation factors to enterprises, and guiding enterprises to conduct joint research on key and common technical issues of industrial technological innovation. We will improve the independent innovation system that integrates enterprises as the main body and "production, research, learning and use", and rely on enterprises to establish industrial alliances to break through core technologies, key equipment and materials.

3. Overall planning and industrial layout Through macro-control and market resource allocation, we pool resources, promote joint reorganization of enterprises, increase industrial concentration, and foster and encourage key enterprises to become bigger and stronger. With regional and product-based linkages, we will create industrial clusters, advance the further improvement and formation of the industrial chain, and strengthen the electronic materials and components industry. Actively promote structural adjustment and new industrial layout through industrial transfer, and create conditions for sustained and long-term development of the industry.

4. Strengthen the construction of independent brands to support enterprises to establish their own brands, enhance the international competitiveness of local products; guide enterprises to strengthen product quality management, enhance brand image; strengthen the construction of product quality system, and better participate in international competition by establishing a brand.

5. Promoting the coordinated development of industries, guiding electronic component companies to cooperate with upstream materials and equipment companies, breaking through the core technologies of raw materials and equipment, and guiding and promoting the "longitudinal development" of powerful machine companies in the industries of computers, communications and home appliances to the upper reaches of the industrial chain. To enhance its supporting capabilities, it also promotes the development of the component industry and forms a linked industrial structure.

6. Actively participate in international cooperation to take advantage of existing strengths, continue to attract large foreign companies to invest in China, and at the same time pay attention to encouraging them to set up R&D institutions in the Mainland, and promote domestic industries to improve their technological level through learning and competition. Make full use of both international and domestic resources to establish first-class enterprises with international competitiveness.

(2) Development focus will closely focus on the development needs of strategic emerging industries such as energy conservation and environmental protection, new generation information technology, biology, high-end equipment manufacturing, new energy, new materials and new energy vehicles, and development of related supporting components and electronic materials.

1. Electronic materials Semiconductor materials. Focus on the development of silicon materials (silicon single crystal, polished wafers, epitaxial wafers, insulating silicon, silicon germanium) and compound semiconductor materials; substrate materials such as sapphire and silicon carbide; metal organic sources and ultra-high purity ammonia and other epitaxial materials; high-end Light-emitting diode (LED) packaging materials, high-brightness, high-power LED chip materials; high-performance ceramic substrates; key materials used in new power electronic devices; graphite and carbon thermal insulation materials.

Thin film transistor liquid crystal display device (TFT-LCD) material. Focus on the development of high-generation TFT-LCD related materials, including large-size glass substrates, mixed liquid crystals and related monomer materials, polarizers and related optical film materials, color filters and related materials, large-size target materials, and high-purity electronic gases. And reagents and so on.

OLED material. Focus on the development of high-purity organic materials for OLEDs, flexible conductive substrates, high-end indium tin oxide (ITO) conductive glass substrates, packaging materials, and large-size high-precision masks.

PDP material. Focus on the development of glass substrates, electrode pastes, wet chemicals, glass powder, phosphors and ethyl cellulose and other materials, and achieve industrialization.

Electronic paper. Focus on the development of microcapsules, inks, and dielectric materials.

New component materials. Copper clad materials and electronic copper foils; piezoelectric and system information processing materials; high thermal conductivity ceramic materials and metal composites; chip type ultra-thin dielectric high-capacitance electronic ceramic materials, capacitor materials and high-performance capacitor film; high-end electronic paste; Low temperature co-fired ceramic (LTCC) multilayer substrates; high performance magnetic materials.

Battery material. Emphasis will be placed on the industrialization technology breakthroughs of the following materials: lithium battery separators, especially power lithium ion battery separator materials; new electrode materials such as lithium iron phosphate, lithium titanate, lithium manganate, and other new types of positive and negative electrode materials; new electrolytes, Solvents and additives, such as fluorine-containing compounds lithium hexafluorophosphate, fluoroethylene carbonate, lithium bisimonium, etc. for lithium ion batteries.

2. Electronic components supporting the Internet of Things. To develop ultra-thin lithium-ion batteries and various specialized sensors that meet the needs of the Internet of Things, focusing on the development of miniaturized, integrated, intelligent, and networked sensors, and researching and developing wireless sensor network nodes with wireless communication, sensing, and data processing capabilities; Advancing the development of sensors from multiple chips to monolithic integration reduces product size, power consumption, and production scale.

New energy support. Develop new types of energy storage batteries, super capacitors, power capacitors, special power resistors, and key electronic components for power electronics that are used in new energy industries such as solar photovoltaics and wind power generation.

New energy vehicle support. Vigorously develop high-efficiency and energy-saving brushless motors, high-performance magnetic components and power batteries for new energy vehicles, promote the industrialization of lithium-ion power batteries, improve the safety of lithium-ion power batteries, increase cycle life, and reduce costs; develop battery management systems and batteries Grouping technology, developing battery systems suitable for new energy vehicles; promoting rapid charging technology R&D and industrialization.

A new generation of communications technology support. Develop low-cost fiber optic cables, optical fiber preforms and related optical devices for fiber broadband networks; actively develop quartz crystal oscillators for communication base stations; and vigorously develop connectors, relays, filters, and cable assemblies for new communication devices.

Other new electronic components. Develop high-quality, high-reliability electronic components that meet the needs of China's automotive and automotive electronics manufacturing industries; develop new types of chip-based, miniaturized, integrated, high-end electronic components to meet the needs of the new generation of electronic machine development; Industrialization of density interconnect boards, special printed boards, LED printed boards, research and development of printed electronics and optoelectronic printed boards, and promotion of industrialization; development of energy-saving and environmentally-friendly electronic components and electronic components for energy-saving and environmental-friendly equipment And cleaner production technology.

V. Policy measures and recommendations (1) Strengthen government guidance, improve industrial policies, actively revise and improve the industrial structure adjustment guidance catalogue, foreign investment industry guidance catalogue and other industrial policies, guide investment directions and priorities through national policies, and import important items encouraged by the state. Equipment and materials, in the absence of alternative products in the country, continue to maintain the existing preferential tax policies. Actively support local electronics materials and components companies to implement the "go global" strategy.

(II) Giving Play to the Role of Fiscal Funds, Creating a Good Investment and Financing Environment Giving full play to the guiding and leading role of various types of financial funds such as technical reform special funds and electronic development funds, and promoting industrial development; promoting the establishment of government-oriented industrial investment funds and making use of financial funds Take action to guide social resources to support industrial development; actively promote the integration of enterprises and capital markets, and create investment and financing environment conducive to industrial development.

(III) Enhancing industrial innovation capability, promoting industrial upgrading and improving the innovation system of electronic materials and components industry, promoting the establishment of a national-level public service platform to provide support for enterprise innovation, continuing to promote technological transformation, encouraging enterprises to increase technological investment, and strengthening enterprises. The basis for innovation. Further promote the convergence of industrial basic research results with engineering and industrialization and enhance the core competitiveness of the industry. Through the formation of industrial alliances or technical cooperation alliances, we will promote upstream and downstream cooperation in the industrial chain, carry out joint research, improve product technology, and promote the promotion and application. Actively guide the transformation and upgrading of enterprises, to refine, energy conservation and environmental protection development.

(IV) Optimizing the industrial layout and planning the regional development in an integrated manner In response to the trend of industrial inward migration, timely promote the construction of a new centralized area of ​​China's electronic materials and components industry in inland provinces, and strive for preferential policies for inland provinces in terms of policies. Guide the orderly transition of the industry, eliminate pollution and dispersion, and use the opportunity of industrial transfer to carry out structural adjustment and industrial layout to create conditions for the sustainable and long-term development of the industry.

(5) Strengthen industry management, promote healthy industrial development, improve the market, environmental protection and other mechanisms to survive and eliminate the inferior, and through industrial access, strengthen the management of industries involving environmental protection and application safety, such as lithium-ion batteries, printed circuits, etc., and supervise enterprises to further Scaled and standardized development, accelerating the establishment of a long-term mechanism for energy conservation and environmental protection and product quality and safety, ensuring the orderly and healthy development of the industry.

(VI) Attach importance to personnel training and actively participate in international exchanges and cooperation. Focusing on the transformation and upgrading of electronic materials and components industries, the demand for professional and technical personnel should fully bring into play the role of industry associations, universities, research institutes, and various related social organizations. The continuous development of the industry cultivates various types of professionals at all levels. Strengthen international exchanges and cooperation, actively participate in international standards work, and enhance China's right to speak in the field of international standards.


China Indoor Rental Led Display is Ultra thin body, die-casting aluminium structure, high-accuracy CNC cutting panel. Natural aluminium heat conduction design, no fans ,no noise. Good consistency, no particle and mosaic phenomenon.
LCD window monitoring function. Use LCD monitoring screen to detect exact temperature, voltage, working time,etc.
Front and rear service both available .Support quick maintenance within 5 seconds with magnetic tools.
Low power consumption,fast heat sinking, long life span time,fast lock system.
Large viewing angle reach to 140° both horizontal and vertical sides.
Using die-casting aluminium material ,extremely light weight and thin thickness
For pair locks of the cabinets, with adjusting function to achieve the seamless splicing. Side spring dowel and up location pin of the cabinets to make sure the flatness of the led screen.
Billion level color and high brightness high with quality LED,realizing perfect of gray scale and contrast.
Stable and continue high-quality video for high-end applications. Low power consumption and environmentally friendly. 500x500mm and 500x1000mm panel sizes. Guarantee of consistency in years. Straight and curved cabinets can be connected together seamlessly by lock.
RCFG file can be saved to factory. If you loose the RCFG file, just click" restore factory".
At the bottom of cabinet, there is special design which can help to protect lamp during installation. 110-220V power input and DVI,HDMI,SDI,DP signal input.
Available pixel pitch from P2.5mm, P3mm, P3.2mm P3.9 and P4.8mm, with SMD 2121 black LED lamps, MBI high refresh control IC, Novastar and Linsn control system. Packed in road/flight case for easy transportation. Can both hang from truss and stack on the ground. Curved locks allow concave and convex surface. Easy to install and dismantle. Ideal design and products for rental/stage business.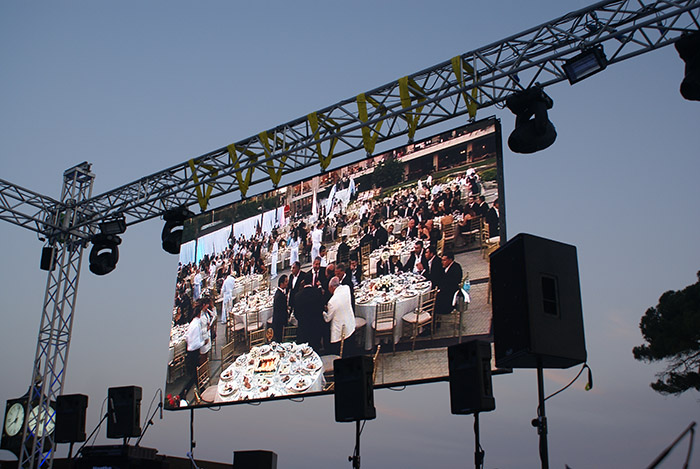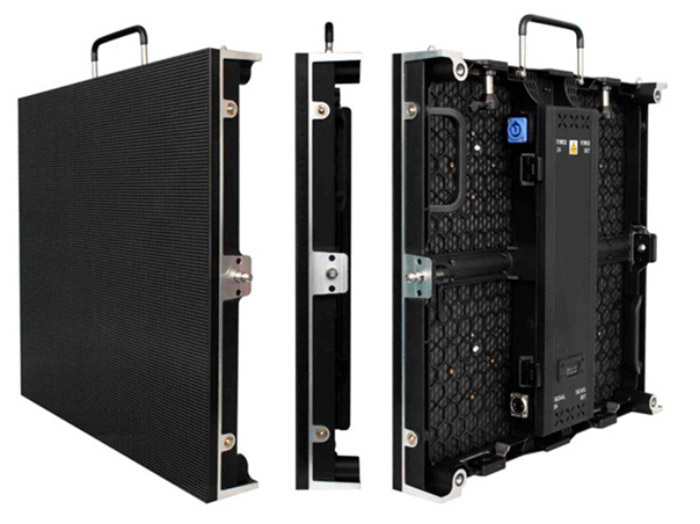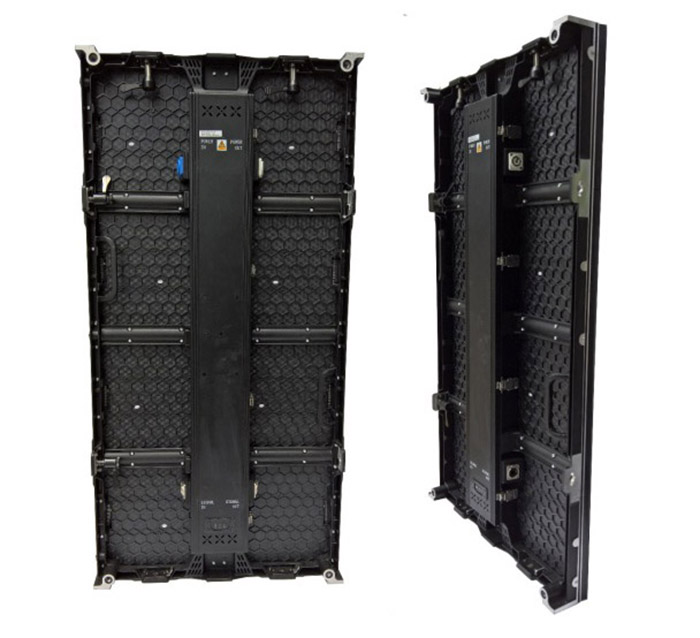 Indoor Rental Led Display,Indoor Rental Led Screen,Indoor High Resolution Led Display,Rental Led Display For Indoor
Shenzhen Bako Vision Technology Co., Ltd. , http://www.rentalleddisplays.com