In order to accelerate the promotion of smart phones to become the center of user life, Analogix Semiconductor is stepping up the promotion of its SlimPort technology, hoping to make it widely used in audio and video transmission standards for connecting smart phones and tablets to various displays.
"We believe that more and more users will use smartphones or tablets as the main computer, but for this purpose, they must be able to enlarge the display to any desired size," Analogix Andre Bouwer, vice president of marketing, said, "By adopting SlimPort technology, we will be able to solve problems such as full-HD, 3D compatibility, and the emerging 4K ultra-high resolution standard. The technology can even achieve multi-screen simultaneous display."
SlimPort uses the DisplayPort open standard adopted by most computer manufacturers. However, the problem with DispalyPort is that it is less easy to connect to an HDMI interface display. Therefore, SlimPort directly connects to the DisplayPort driver chip that has been commonly used in smartphones and tablets, and multiplexes the transmission of signals to the standard micro USB connector for charging Android smartphones and tablets.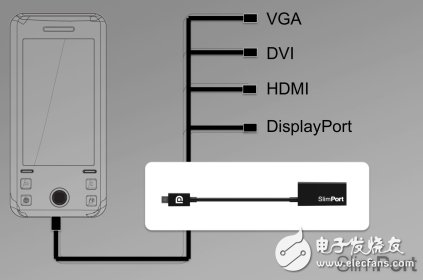 SlimPort uses the VESA DisplayPort standard, allowing smartphones to become PCs through a Displayport, VGA, DVI or HDMI display. (Source: Analogix)
According to Analogix, the future application mode is to allow users to directly plug into the micro-USB port on their smartphones when they arrive at the office or home, so that while the phone is charging, the video signals on the phone are also sent to the connected monitor Device, HDTV or projector. This simplified dongle cable can be designed as a micro-USB on a smartphone, or as an interface plug-in for VGA, DVI, HDMI, and DisplayPort.
SlimPort is compatible with VESA's Mobility DisplayPort (MYDP) standard and will face MHL competition. MHL alliance members include Nokia, Samsung, Sony, Toshiba and Silicon Image and other companies. It is said that up to 220 million devices have been installed so far, including audio and video receivers (AVR), Blu-ray disc players, notebook computer docks, Computer monitors and projectors, but not many smartphones, including Samsung Galaxy S4, HTC One and LG OpTImus.
It is worth noting that Apple 's laptops, desktops, iPhones, iPods and iPads all use the DisplayPort standard, so neither SlimPort nor MHL are compatible with iOS. Apple has adopted a proprietary connector for wired connections and streaming wireless video using Wi-Fi to connect it to the display of an Apple TV set-top box.
Integrated Rimless LED Panel Light includes round and square two shape frame. We are the manufacturer of producing energy saving interior lighting. These trimless led panels has built-in driver and external driver. The frame shell is made of PC material. There are three color temperatures with cool white, warm white and natural white of panel lights. It has both concealed and surface mounted installation way. The unique features of led trimless light are: CRI>80, PF>0.5. These panels are mainly apply to home, office and school, etc.
Integrated Rimless Concealed Mounted Led Panel Light
Led Panel rimless Light,Interior Led Integration Light ,Led Integrated Light ,Round Rimless Integrated Lamp
Jiangmen Lika Lighting Electrical Appliances Co., Ltd , https://www.lika-led.com