Press release-September 2013- National Instruments (NaTIonal Instruments, NI) participated in the 2013 Automobile Testing and Quality Control Expo held at the Shanghai Everbright Convention and Exhibition Center from September 10 to 12, 2013. At this automotive testing and quality monitoring expo, NI and a number of industry-leading partners collectively demonstrated a number of front-end applications and solutions in the automotive field.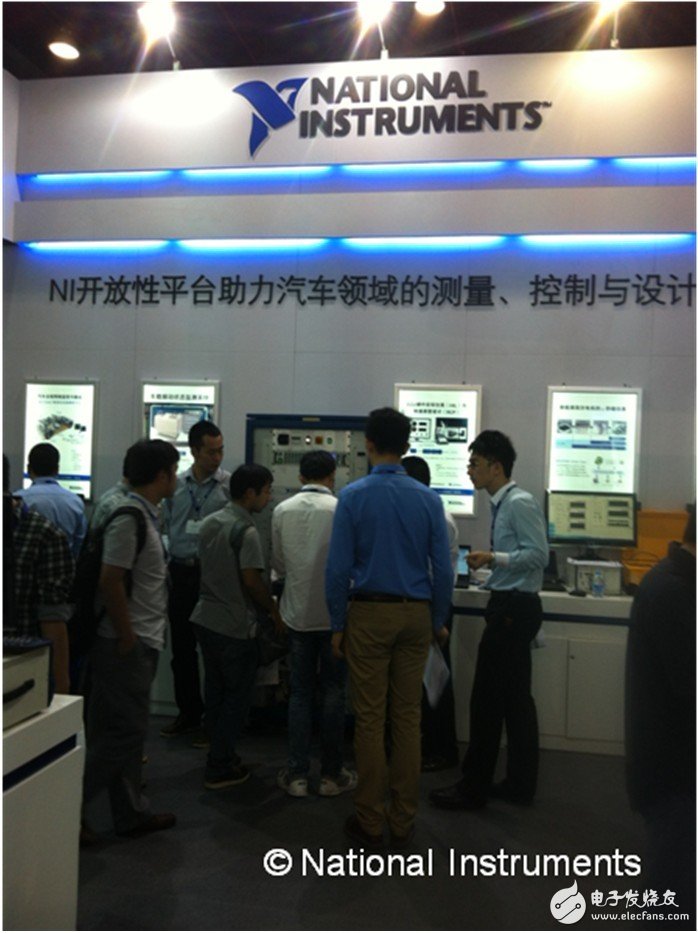 NI products are used by almost all automotive OEMs and Tier 1 suppliers. With leading I / O, flexible hardware, and a powerful and efficient LabVIEW platform, users can create solutions suitable for a variety of applications. At present, NI's products involve several fields such as rapid control prototypes, automotive terminal testing, measurement and control of TEST Cell, hardware-in-the-loop, in-vehicle testing and recording. At this fair, NI brought the following products to the show:
· Μsecond simulation of new energy high imitation motor
· Automotive electronic comprehensive function test system
· High reliability data collection and analysis management
· ECU hardware-in-the-loop simulation (HIL) and rapid prototyping (RCP)
· Noise, vibration and comfort (NVH)
· Car bus network monitoring and verification
· Engine control design and combustion analysis system
· Efficient automotive industry measurement and control design software tool chain
· NI measurement, acquisition and control hardware platform
At the same time, NI and several industry senior partners (Beijing Hengrun Technology, Suzhou Lingchuang Electronics, Shanghai Juxing Instruments and Shanghai Qigao Electronics) have respectively carried out ECU hardware-in-the-loop, electronic control unit automation testing, vehicle data collection, Existence and management and automotive NVH & modal etc. provide complete solutions. Many partners at the exhibition site also provided mature solutions for OEMs and tier one suppliers.
During the exhibition, Fu Wenwu, manager of the NI industry marketing department, gave a theme report on the topic of "NI Open Platform Helps the Development of Measurement and Control Applications in the Automotive Industry". The latest developments in application areas such as design, testing of new energy vehicles and key components, and in-vehicle data collection.
It is believed that through this expo, customers will have a more comprehensive understanding of NI's concepts and products in the field of automotive electronics testing. For more information on automotive electronics, please visit the following link: http: // TIve / zhs /
NI Automotive Industry Application Brief
NI has been committed to providing solutions for customers in various industries and application fields. As a leading manufacturer of test, measurement and control instruments in the automotive industry, NI provides flexible, high-performance software and hardware platforms and the latest technologies to help engineers achieve efficient and reliable automotive solutions, from crash safety records to ECU development simulation, from automotive TelemaTIcs Test to hybrid development. Today, almost all automotive manufacturers and suppliers use the NI platform to implement various automotive industry applications. Through a unified and universal platform, it effectively saves the time and cost spent on all stages from automotive research and development to testing to the production process.
The magnetic transducers (External Drive Type) are versatile and customizable to different physical sizes, housings, mounting options, power consumptions. Our magnetic transducers are engineered to be used with an external drive circuit. This allows our customers the flexibility to design and customize the circuitry to meet their needs. External circuitry allows different frequency ranges to be used to create multiple sounds through excitation waveform. Our magnetic transducers come in a slim-line profile and are a cost-effective solution. Our extensive capabilities make our magnetic transducers an excellent solution for high/low tones, siren, and chime sounds.
Magnetic Transducer External Drive Type
Piezoelectric Buzzer,Passive Magnetic Buzzer,External Drive Buzzer,Magnetic Transducer External Drive Type
Jiangsu Huawha Electronices Co.,Ltd , https://www.hnbuzzer.com