The proprietary silica-based 200 µm hard polymer-clad fiber has a tensile strength much higher than the industry standard of 150 kpsi, and the typical attenuation is ≤10 dB / km at 650 nm and ≤6 dB / km at 850 nm
(Singapore – October 15, 2013) Polymicro Technologies, a subsidiary of Molex Corporation , a leading global supplier of complete interconnect products, has successfully developed an optical fiber product containing a low-OH synthetic fused silica (SyntheTIc fused silica) core, PolyClad ™ Hard polymer coating and ETFE buffer / jacket. Its characteristics are high tensile strength and minimum bending radius, achieving high reliability. Polymicro 200/230 PolyClad fiber is suitable for short to medium distance data communication in factory automation and process control applications, and can withstand harsh temperatures, chemicals and radiation environments.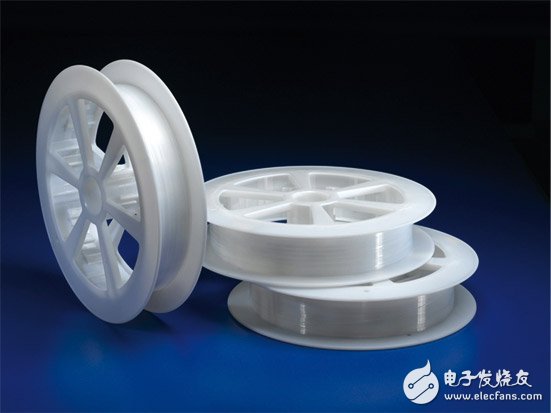 Imlex Kuester, business development manager at Molex, said: "Our new wide-spectrum 200 µm hard polymer-clad fiber is optimized to have typical attenuations at 650 and 850 nm of less than 10 and 6 dB / km, far exceeding industry standards. The 150 kpsi tensile strength and minimum bend radius provide high reliability. Polymicro's 200/230 PolyClad fiber has excellent performance and combines resistance to harsh temperatures, chemicals and chemicals that may cause degradation and shorten product life. The characteristics of radiation. "
The 200/230 PolyClad fiber is compatible with crimping and cleaving, and complies with Euro RoHS standards. It has a large 200 µm core and a large numerical aperture, enabling easy termination and high light source coupling efficiency. Due to the high cladding / inner diameter ratio, the connector offset is minimized to ≤5 µm. Due to tensile strength ≥150 kpsi, minimum bending radius ≥10 mm (short-term) and ≥16 mm (long-term), and typical attenuation at 850 nm ≤6 dB / km and 650 nm ≤10 dB / km, even in the harsh Under the environmental conditions, Polymicro fiber is also very reliable.
200/230 PolyClad fiber is designed for a range of high-performance short-to-medium distance data communications for a wide range of factory automation and process control applications, including chemical plants, refineries, avionics, automotive, production and manufacturing plants, mobile platforms Applications in wind turbines, power plants and PLCs. To learn more about 200/230 PolyClad fiber, please visit the company's webpage TIcalfibers.html.
About Molex Incorporated
In addition to connectors, Molex also provides complete interconnect solutions for many markets, ranging from data communications, telecommunications, consumer electronics, industrial, automotive, commercial vehicles, aerospace and defense, medical and lighting. The company was founded in 1938 and has 41 production plants in 15 countries around the world.
Electronic motors specilized for honeycomb blinds.
Roller Blind Drive,Skylight Shade Motor,Honeycomb Blinds Motors,Roller Blind Motor
GUANGDONG A-OK TECHNOLOGY GRAND DEVELOPMENT CO.,LTD. , https://www.a-okmotor.com